Reporter's name: Brian Kenney

Sighting Description: Immature Northern Shrike, Deer Lagoon, perching and hunting from bare trees in marsh just before reaching the dike on the footpath.

Location: Deer Lagoon - footpath a bit before reaching the lagoon proper.

Date and time: Jan 13, 2017, around 2 p.m. Sorry for late posting, new to this website.

Above comment submitted Jan 14, 2018

---


Reporter's name: Rob and Traci York


Sighting Description: Male American Goldfinch

Location: Broadway Street Coupeville

Confirmation: Spotted a male American Goldfinch eating off of Purple Cone Flower seed heads. He was in very pale male plumage, but clearly able to identify.

Date and time: 1/14/18 8am

Above comment submitted Jan 14, 2018

---


Reporter's name: Carlos Andersen


Sighting Description: Two Rough-legged Hawks at Crockett Lake.

Location: Crockett Lake, east end.

Date and time: 12/20/2017, 1130

Above comment submitted Dec 20, 2017

---


Volunteers are needed to set up and provide refreshments Saturday, December 30 at the end of the day for the Christmas Bird Count South teams. Counters finish up about 4 p.m. and come to Trinity Lutheran Church Annex in Grigware Hall to list their tallies. We're looking for volunteers to both set up and clean up and bring food and make hot beverages for tired, hungry birders. The facility has a kitchen and equipment. Please contact Nicole Luce at (360) 331-3634 or email ilndgals@whidbey.com

---


Reporter's name: Christine Visick

Sighting Description: Lucistic Robin has visited my bird baths several times this past week.

Location: Whidbey Green community, next to the golf course.

Date and time: 12/10/2017 through 12/13/2017 so far.

Above comment submitted Dec 14, 2017

---


Reporter's name: Vincent Hagel

Sighting Description: 18 Black Oystercatchers flying in formation across our bow near the entrance to the channel that enters Oak Harbor. They were flying toward the beach at City Beach.

Location: Between the red and green buoys marking the entrance channel into Oak Harbor.

Date and time: Tuesday, 12/12/2017 about 3:00 p.m.

Above comment submitted Dec 13, 2017

---


Reporter's name: Jay Adams

Sighting Description: White-throated Sparrow - a single tan-striped morph showed up at our feeders at about 9:00 this morning.

Location: Lindsay Street, Coupeville

Date and time: December 11, 2017 at 9:00 a.m.

Above comment submitted Dec 11, 2017

---


Reporter's name: Sarah Schmidt

Sighting Description: Eight Sandhill Cranes flying over Pacific Rim Institute. Seen and heard at 2:35 pm today. They flew northward, then circled above the forest and gaining altitude, few back to the south and out of sight. Just in case they decided to overnight at Crockett Lake I drove there at sunset to scope for them, but didn't find them.

Location: In the sky above Pacific Rim Institute, three miles south of Coupeville.

Date and time: December 9, 2017, 2:35 pm

Above comment submitted Dec 9, 2017

---


Reporter's name: Gideon Seraphine


Sighting Description: Long-tailed Duck: I was out with the BINS group at Deer Lagoon this morning when I spotted this duck floating and diving among the Am. Wigeons, Buffleheads, and No. Pintails- thanks to others who helped nail down the identification, as I have never seen one here, and the few I have seen before were flying over the open coastal seas, so was not expecting this! (See attached photo).

Location: Deer Lagoon

Date and time: 12/7/17- 10:15 AM

Above comment submitted Dec 7, 2017

---


Reporter's name: Jay

Sighting Description: One drake and one hen Redhead.

Location: Outside of the swimming area, Cranberry Lake, Deception State Park

Date and time: December 7, 2017 at about 9:30 a.m.

Above comment submitted Dec 7, 2017

---


Reporter's name: Carlos Andersen


Sighting Description: Single Horned Lark at Crockett Lake this morning.

Location: Feeding along the gravel roadway near the viewing platform at Crockett Lake.

Date and time: 11/17/2017, 0900

Above comment submitted Nov 17, 2017

---


Reporter's name: Traci York

Sighting Description: I heard Golden Crowned Sparrows giving the alarm call... I looked out back to see a NORTHERN SHRIKE on the ground, mantling over its capture! Then, it moved under the Doug fir to reveal it had caught a White Crowned Sparrow. This is the first NS I've seen in our back yard - with its distinctive bold black mask, hooked beak, clean white breast, gray back and black wing bars, it was a clear giveaway! I got a good look at him/her, then it was gone as fast as he/she came in! Woah! - listed as Occasional on WAS Birds of Whidbey Island.

Location: NW Broadway St.

Date and time: Nov. 15 2017, 11:30 am

Above comment submitted Nov 15, 2017
Schedule changes: Remember to check this space by 4 p.m. on the day of any Whidbey Audubon Society event in case weather or illness cancels an event. Consider signing up to receive notifications by email.

Birding In The Neighborhoods - Weekly Field Trips

South Whidbey
The trips are every other Thursday and the meeting time varies with the season. If you would like to be notified of the events, contact Cathi Bowers (email).

North Whidbey
The trips are on the 2nd Wednesday of each month. If you wish to be notified of the events, contact Marcia Lazoff (email).

Thursday, January 11: Meeting
TALES OF A VETERINARIAN with Dave Parent, DVM
Hear stories and see pictures about Parent's practice. Besides treating dogs, cats, chickens, rabbits and the occasional reptile, he has a license to treat wildlife, including marine mammals. Learn what his favorite animal is or which Whidbey wild bird has the worst bite. Doors open at 7 p.m. for refreshments, 7:15 short business meeting and the program begins at 7:30 p.m. All are invited to this free event at the Unitarian Universalist Congregation about two miles north of Freeland (20103 State Route 525).

Wednesday, January 17, 2018: Field Trip
EBEY'S LANDING AND SURROUNDING AREA
Meet first at the beach at Ebey's Landing at 9 a.m. to look for ducks and seabirds. We will then park up at Sunnyside Cemetery on Sherman Road and walk the Pratt Loop trail looking for hawks, eagles and forest birds. Bad weather will cancel the trip. Contact trip leader Kim Shepard (email)

Thursday, January 25: Whidbey Audubon Board Meeting
7 p.m. at the Methodist Church, Coupeville. Members welcome.

Saturday, January 27, 2018: Field Trip
LOONS AT DECEPTION PASS
Trip leaders are Sarah Schmidt and Joe Sheldon. Meet at 10 a.m. at the north end of West Beach parking lot, Deception Pass State Park. We'll bird both beach and lake, and hope to see hundreds of Red-throated Loons gathering to feed in the outflowing current of Deception Pass. Bring a spotting scope if you have one. Depending on weather and interest, we will end at about noon, with a possible stop at Dugualla Bay on the way back toward Oak Harbor. If you like, bring water, a snack or a hot drink. Dress warmly and prepare for wind. To carpool, meet at 9 a.m. in Coupeville at Prairie Station Transit Park on the east side of South Main Street; or at 9:30 at City Beach Park in Oak Harbor, at the end of South Beeksma near the water. Cars parking at state park will need a Discover Pass. Questions: contact Sarah Schmidt: email or call 360-929-3592.

Saturday, February 10: Field Trip
BIRDING CROCKETT LAKE
Join us for a morning of winter birding at Crockett Lake. We have lots of different habitats to explore here. Meet at the Coupeville ferry parking lot at 9 a.m. (Bring your Discover Pass.) Bundle up and prepare for any weather and lots of birds. The trip leader is Ann Casey (email) or 360-331-4679.

Saturday, February 24: Field Trip
WINTER BIRDS OF SKAGIT FLATS, FIR ISLAND AND SAMISH FLATS
Typically, there are great concentrations of waterfowl and raptors. The area is considered one of the top winter raptor viewing sites in the U.S. Some walking will be involved; be prepared for some mud. Meet at 9 a.m. to carpool at Windjammer Park at the end of South Beeksma Drive in Oak Harbor. A Discover Pass will be needed for each car. Due to narrow road shoulders and limited parking, carpools are particularly important for this trip. Bring a lunch for this all-day field trip. Return about 4 p.m. Trip leader is Joe Sheldon at 360-678-9060, email, or cell phone at 206-940-7539. Bad snow or ice cancels the trip.
Picture Gallery
Post your pictures
American Goldfinch
Rough-legged Hawk
Rough-legged Hawk
Long-tailed Duck (female), Deer Lagoon
Horned Lark
White-throated Sparrow
Female Yellow-shafted Northern Flicker
Blue Jay
Red Breasted Sap Sucker
Blue Jay
Barred Owl S End Lagoon View Drive
Back Side of Barred Owl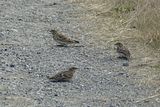 Deer Lagoon Lapland Longspurs 9/24/17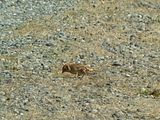 Lapland Longspur - Crockett Lake 9.24.2017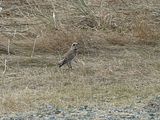 Horned Lark - Crockett Lake 9.24.2017