Reporter's name: Steve Ellis

Sighting Description: Male Eurasian Wigeon in a mixed flock of American Wigeons and Mallards. The reddish head really stood out in the bright sunshine. Fortunately it wasn't the duck eaten by a pair of eagles atop the Coupeville H/S building. The eagles have been hunting the flock off and on for a month or so.

Location: In the field across the street from the Coupeville Middle School. It was very close to the road allowing for a good look.

Date and time: 2/24 1:10 pm.

Above comment submitted Feb 24, 2017

---


Reporter's name: Gideon Seraphine

Sighting Description: Saw my FOS male Rufous Hummingbird at the feeder outside the window early this morning...

They're back!

Location: In Langley, at Island View Lane near 6th St.

Date and time: 2/24, about 7:00 AM

Above comment submitted Feb 24, 2017

---


Reporter's name: Margi Hartnett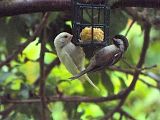 Sighting Description: July 2016 kept seeing flashes of white around the trees surrounding my house. At first I thought it was someone's escaped pet until it came to my feeder. It was then I realized it was an albino chestnut-backed chickadee. It hung around for a few weeks and disappeared. Hoping it returns this spring.

Location: Off of Campbell Road in Clinton

Date and time: July- Aug. 2016 at various times.

Above comment submitted Feb 21, 2017

---


Bringing Western Bluebirds Back February 28
Pacific Rim Institute (PRI) for Environmental Studies invites all to a public program with Gary Slater on Tuesday, February 28 about attracting the Western Bluebird back to Whidbey and the North Sound

5:00 PM - Walkabout on PRI prairie discussing best practices for attracting bluebirds

6:30 PM - Presentation in Granary at PRI, 180 Parker Rd, south of Coupeville

Join us as Gary Slater, Avian Ecologist for the Center for Natural Lands Management, a South Sound restoration partner of PRI discusses:

- Reintroduction progress on San Juan

- Prospects for bluebirds on Whidbey

- How landowners can help recover this iconic species

---


Reporter's name: George Heleker

Sighting Description: Spring is here, and the birds know it! We have gained just over 2 hours of daylight since the winter solstice and the birds are responding with song.
The following are birds that I heard singing this morning while I was outside filling bird feeders for 5 minutes on a cloudy day with light rain:
Song Sparrow, Spotted Towhee, Mourning Dove, Purple Finch, House Finch, Dark-eyed Junco, Anna's Hummingbird, Hutton's Vireo, Red-winged Blackbird. I know that this is not an unusual sighting, but it has been quite a few months since the birds have been singing this enthusiastically, and it is much more thrilling to this particular birder than finding an unusual species at our place. It's been a long winter.

Location: Holst Rd near Rolling Hills Rd.

Date and time: 2/18/17-9:01-9:06 a.m.

Above comment submitted Feb 18, 2017

---


Stanwood and Camano Island Chambers of Commerce announced on Thursday that the Snow Goose & Birding Festival, scheduled for February 25 and 26, has been cancelled.

---


Reporter's name: Leckey

Sighting Description: I have a group of what look like Bushtits on my feeder. Real small, just above Kinglet size, lighter underneath, black beak. No mark otherwise. Long, notched tail. Today (just now, and yesterday. They come and feast then disappear for the rest of the day. Are Bushtits a possibility?

Location: Near downtown Langley

Confirmation: Stellar Jays are on the rare bird list? We have those here regularly.

Date and time: 2/9/17 11:55 AM.

Above comment submitted Feb 9, 2017
Response by Sarah Schmidt: Flocks of Bushtits quite commonly swarm suet feeders, and match your description. Steller's Jays are Uncommon on our Whidbey checklist. They are on Whidbey year round, but some people see them at their feeders regularly, others rarely or never.

---


Reporter's name: Jenny Brown

Sighting Description: Three Varied Thrush came out of the woods to eat seed I had scattered on the snow-covered ground. First I've seen this winter.

Location: North of Oak Harbor

Date and time: 2/8/2017 at about noon

Above comment submitted Feb 8, 2017

---


Reporter's name: Darwin Wile

Sighting Description: Unusual (for me, anyway) sightings well INSIDE of Deer Lagoon (i.e., birds I normally see outside of the lagoon in Useless Bay) - one common loon, both male (12) and female (5) surf scoters, a mixture of about a dozen common goldeneyes.

Location: Deer Lagoon

Date and time: 2/4/17; 10:00 am (high tide)

Above comment submitted Feb 4, 2017

---


Reporter's name: Sarah Schmidt

Sighting Description: Brightly colored White-throated Sparrow under our birdfeeder with the Golden-crowned Sparrows.

Location: Rhodena Drive, Coupeville

Date and time: January 28th, 1 pm

Above comment submitted Jan 29, 2017

---


Reporter's name: Joe Sheldon


Sighting Description: Yellow-billed Loon at Rosario Beach was again seen today - 23 January. It has been seen for several days. Look in the cove area just north of the site for intertidal invertebrates. It was about 100 feet off the beach feeding. Also reported is a Rock Sandpiper.

Location: Rosario Beach

Date and time: 23 January about 1 PM

Above comment submitted Jan 24, 2017

---


Reporter's name: Susan Bennett

Sighting Description: A flock of about 20 Bushtits flew in to our sunflower seed feeder this morning, ate busily for a few minutes, then left. First flock ever.

Location: Goss Ridge Road, Freeland.

Date and time: January 22, 2017 about 10:00 am

Above comment submitted Jan 22, 2017
Birding In The Neighborhoods - Weekly Field Trips

South Whidbey
The trips are every other Thursday and the meeting time varies with the season. If you would like to be notified of the events, contact Phyllis Kind (email).

North Whidbey
The trips are on the 2nd Wednesday of each month. If you wish to be notified of the events, contact Marcia Lazoff (email).

Tuesday, Feb 28: Special Event
Bringing Western Bluebirds Back
Pacific Rim Institute (PRI) for Environmental Studies invites all to a public program with Gary Slater on Tuesday, February 28 about attracting the Western Bluebird back to Whidbey and the North Sound

5:00 PM - Walkabout on PRI prairie discussing best practices for attracting bluebirds

6:30 PM - Presentation in Granary at PRI, 180 Parker Rd, south of Coupeville

Join us as Gary Slater, Avian Ecologist for the Center for Natural Lands Management, a South Sound restoration partner of PRI discusses:

- Reintroduction progress on San Juan

- Prospects for bluebirds on Whidbey

- How landowners can help recover this iconic species

Saturday, March 4: Field Trip
BIRDING BIRCH BAY AND SEMIAHMOO
Join us for a day of birding in northern Washington at Birch Bay and Semiahmoo. Target birds will include Long- tailed Ducks, Pacific Loons and White-winged Scoters along with other seabirds and ducks. This is an all-day trip, please come prepared with appropriate food, clothing and birding gear. Meet to carpool at the Park & Ride at Trinity Lutheran Church in Freeland at 7:45 a.m. We will stop in Coupeville at the Prairie Station Transit Park, behind the Family Dermatology office at 8:15 with a final stop in Oak Harbor at Windjammer Park at 8:30. Bring a lunch and something to drink. Dress for the weather. If you plan to attend, please contact Ann Casey (email) 360-331-4679.

Thursday, March 9: Meeting
Dennis Paulson. Last spring White Pelicans arrived on Whidbey Island. Since their arrival large numbers of birders have made them the focus of their fascination and awe. Why did they come here and who are these rare visitors? Dennis has been asked to provide us with some information about these wonderful birds. Unitarian Universalist Congregation, near Freeland. 7:00 doors open,7:15 membership meeting, 7:30 program.

Saturday, March 25: Field Trip
FINE FEATHERED FRIENDS AT LANGLEY MARINA
Meet at 8 a.m. at the Langley Marina dock. Bring binoculars and scopes if you have them. Expect to see Ruddy Turnstones, Barrows Goldeneyes, Horned Grebes; and a Pigeon Guillemot taking an interest in the new colony. Hopefully we'll see these friends; and maybe even a gray whale? If there are not many birds, then we will motor over to Lone Lake and look for woodpeckers and warblers. Come enjoy this early spring trip with Govinda Rosling, 360-481-6971 (email)

Thursday, April 13: Meeting
Dr Richard Gammon comes recommended to the Whidbey Audubon Society as someone who can provide us with important information we need to understand "Climate Change in the Salish Sea." Coupeville Rec Hall. 7:00 doors open,7:15 membership meeting, 7:30 program.

Thursday, May 11: Meeting
Steve and Martha Ellis will present a program titled "Fur Chase: A Year's Pursuit of Vagrant Shrews, Creeping Voles and Long-Tailed Weasels." Coupeville Rec Hall. 7:00 doors open,7:15 membership meeting, 7:30 program.

Thursday, June 8: Meeting
A birthday dinner and program celebrating 35 years of the Whidbey Audubon Society making a difference in the Salish Sea. Coupeville Rec Hall. 7:00 doors open,7:15 membership meeting, 7:30 program.